Feedback for Otaku.com and Unbox for FFT STUFF!
So, last month I bought some items from
http://otaku.com
and today they have
final
ly arrived!
I'll make a
review
here together with the
unboxing
.
At first I was quite afraid of buying from this website, since I couldn't find
feedback
s or even
review
s about it. The website doesn't have an account system, so I wasn't sure if I should really try it out... Well, it still was the only place I could find that character book for a nice price, so I decided to give it a shot. (Only after some time that I discovered about their ebay store. But there things are a more expensive.)
Pricing:
Shipping:
Product Condition:
(They all looked like new)
Packing:
Communication:
Well, they DO answered all my e-mails, but I missed an internal message system on the website. Maybe I'm just too spoiled by the other websites. They do not have a complex account system, you just select what you want and order. That's all. I felt it a little strange, not having and account, and a profile, and everything else, but I'm glad with the
final
result. So, in my
final
evaluation,
I would recommend buying from Otaku.com., and I'll surely buy from them again.
Let's see the
unboxing
!:
And here's the box! They havent put any logo or anything that could identify it as a package solely with commercial intent. Thumbs up!
They've also declared a lower value and identified the books as books :D That's really important for customs here, since books are free of any charge.
The package as it was inside the box, very well packed.
THE CHARACTER BOOK OMG I CAN'T BELIEVE I HAVE FOUND IT!!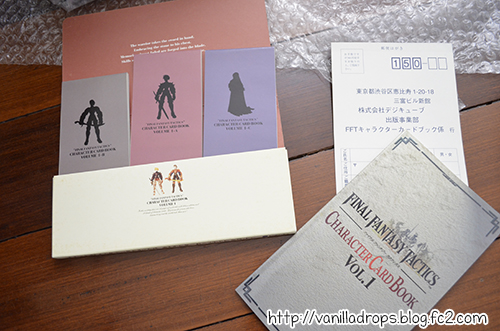 LOOK IT'S DELITA OMG <3 SO PRETTY!
The saying from the opening omg!
And the magazine. It came very well packed and with all the patterns!
AND NOW THE MILLENNIUM EDITION!!
WOW I'M SO EXCITED!!
OMG THE CD IS SO PRETTY I WANNA PLAY IT AGAIN FOR THE 22ND TIME OMG
THE MILLENNIUM CLOCK WITH SUMMONS AND SHIT OMGG (And a 14 years old battery.)
AND CAAAARDSSSS CAAAAAAAAAAARDDSSSSSS!! (And Delita as Ace and Agrias as Queen and Reis as Queen omg omg omg!!)
Anyway! I'm so very glad with everything I've bought! ^3^My
FFT
collection is almost complete now :D Ahahhaa
Hope you enjoyed it <3