Julchen Photoshoot
Hello! Today I've had my ulchen Photoshoot! YAAAY!
I've been waiting for it for a long , long time ;3;
I prepared everything yesterday, so that today I could haste things a little.
This morning my brother and I went out to, finally, take these photos...!
And another one!
And I'm totally in love with them *3*
And the scaaarr! Oh, how I loved it! I made with white glue and eyeshadow only x3
I had to brush my wig from time to time to make sure it wasn't getting too tangled xD And my mighty sword! Look how it is dangerous! woohh
Ahaha and I lost count of the photos that I'm trying to wave the flag XD
Here you can see some of the failed shots!
I have an egocentric flag lol
And the amount of pictures where my hat goes down is no joke! ahahah
Yess Laura! Wave the flag! It's so easy and... no. AHAHA HELL NO!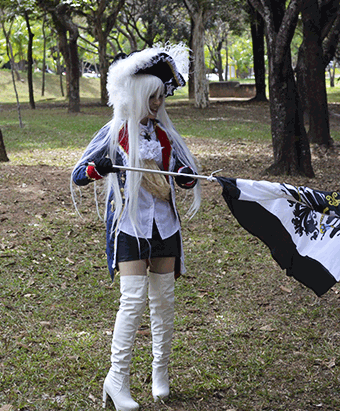 The heels made me very tired, but I can't deny how I love these boots! (But... Where are the black laces?? Well, I don't like them, so no black laces for u)
And... you should keep the serious face ò_ó AND NO AGAIN.
And then I had to change clothes before going home, specially because I still hadn't lunched...
BEWARE MY MARVELOUS LOOK OF THE DAY!
UHAUHUAUH THAT'S IT FOR TODAY!