Sewing magazine + random chatting
Hi hi~! Today I went out and managed to find a very precisous magazine!
I always check on new sewing-magazines on stores. (I really wish that Burda had a brazilian version... It's my favourite pattern maker!) I usually buy Manequim, Moda e Moldes, Moldes fácil and Vogue (when they're on sale, of course $$$)
This time I've bought this Moda Moldes special edition, only with dresses patterns!
To be sincere, this magazine's models tend to be kinda ugly. And, because my size (large hips, small waist, small bust) is out of the standard sizes , I always have to make a lot of adaptations. But they always have simplified patterns, so it's a nice magazine to start with!
I'll show some of the dresses and will explain some of the patterns:
- Long dresses like these (for parties) tend to be kinda hard to sew, so I wouldn't suggest anyone to go on trying on those right from the start. (specially because some mix embroidery and draping.)
But, on the same side, you can find some very chic, yet simple dresses! Like those:
Here are the patterns for those:
These are simply cut and sew patterns. No skill required, actually... Just a bit of patience and care. Most of this magazine's dresses are like this, so this is why I would suggest it if you can't afford a Beginner sewing Cosmode. While these Brazilian magazines cost somewhat 10R$, the Cosmode can go from R$90 to R$150!
Anyway, my suggestion is that you buy a cheap fabric (like party satin) and start tracing and cutting these patterns! You can even use TNT or old newspaper if you really don't want to spend money or don't feel very secure to cut actual fabric...
And, some more on the magazine. I've ordered then based on difficulty level (Personal opinion, of course):
[**]
(Black one)
[***]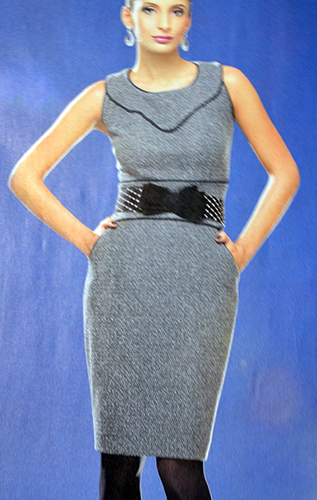 (ugly floral dress, urgh)
[****]
[*****]
Before getting to cosplay, I strongly suggest getting to know the basics of sewing. Like pencil skirts, tube dresses, A line dresses and skirts, T-shirts, long shirts shorts and pants. From this point on, sewing and adapting every pattern or piece of clothing from your wardrobe will be a piece of cake! Ahaha
So, if anyone is interested on, I can make more posts about these magazines. I have tooooons of then here at my house!
-----
Oh, today my ehru strings arrived! I got really surprised because I got two instead of one... Ahaha I was hoping only for the inner string. Now I just have to wait for the bow.
And a last rant... Ahaha
I've found Kinderbueno on sales today and bought two (one for and one for my brother as thank-you-gift for always reviewing my texts ;3;) It was very cheap compared to the actual Kinder Egg (kinderovo? xD)
The egg was R$4.00 each one (something around U$2.00) and the pack with two eggs was R$9.50 (U$4.80). (???) But the most appealing part was this 100g egg, which costs R$22.90!! (U$11.50)
Like... waaaaaaaattttt < o > hahaha geez!