[PersonA ~Opera Za no Kaijin~ ] INTRO I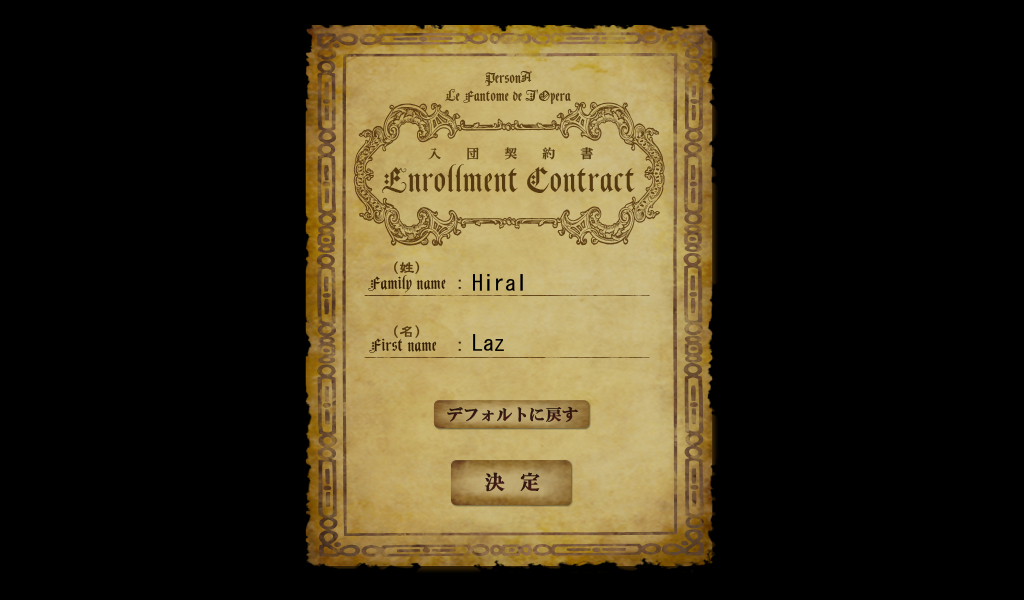 [[First of all, put your surname and name to sign the contract. Mine is Laz Hiral :D]]
[[Check the bigger button and let's proceed to the game:]]
The Paris Opera House was completed on 1875, being designed by Moncharmin.
Those who saw the finished Opera went breathless in front of its beauty.
Since Moncharmin was the head designer, the Opera House became known as the Moncharmin Palace, that was also in respect to him.
Moncharmin was put as the honour head manager when the Opera House opened and Poligny was also put as responsible for the management.
The Opera, and its prosperity, soon became well known around Paris...
One day, strange phenomenons started to happen.
And, one day...
From a mysterious person, who called himself "F of the Opera"("
オペラ座のF
"), a threatening letter, marked with a red skull of wax, was received.
In this letter he demanded 240,000 Francs a year and that the box 5 of the Opera House had to be reserved for him.
From time to time the "F of the Opera" also started to criticize the Opera Productions. (
The plays and shows.
)
And soon he started to demand the main singer to be changed.
At first, Poligny ignored his requests, but soon more strange phenomenons started to happen and the fear of the "F of the Opera" grew.
Fearing for himself, Poligny wavered, but Moncharmin never accepted it.
Incapable of enduring the terror, Poligny soon gave up.
So, Moncharmin hired Richard Firmin. who was a prominent musician and also a young businessman, as the new Opera manager.
Moncharmin made that expecting that Richard would be able to oppose the "F of the Opera".
And, this story begins here...