Contract Marriage - Arima's Valentines - Ch7
[[Use this code to get free platinum: avDyWU ]]
Laz: What's up? Why did you want to walk?
Shinobu: I just felt like it today.
Laz: You just... felt like it?
((After leaving the restaurant, Shinobu takes my hand and we start walking toward the station.))
((As I look up to Shinobu's profile under the night sky as we walk through the park,))
((I think that it looks like he's enjoying himself somehow.))
Laz: Has something good happened?
Shinobu: Huh? Maybe...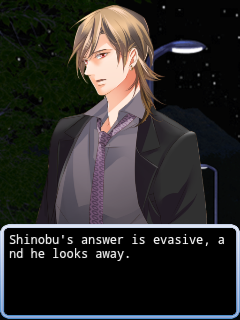 ((Shinobu's answer is evasive, and he looks away.))
Laz: What's going on?
Shinobu: By the way that appointment with you two...
Shinobu: I seem to have completely forgotten it.
((It feels like he's changing the subject.))
((And when I meet Shinobu's glance, I wonder if he hasn't rumbled us.))
((Flustered, I look down.))
Shinobu: I'm sorry if I kept you guys waiting.
Laz: N...no...!
((I'm feeling terrible for lying to him))
((And I clutch the bag with the magazine in it to my chest.))
Laz: (I'll make it up to him on Valentine's Day!)
((I tell myself this as I walk beside Shinobu.))
((He's strolling toward the station, looking up at the night sky.))
((And seems in fine spirits.))