Contract Marriage [Prologue]
[[Use this code to get free platinum: avDyWU ]]
((Seeing you cry excites me.))
((So only I can make you cry.))
(( I signed a contract with you.))
((If you don't listen to me, you'll be punished.))
((Who were you talking with? Was it him?))
((were you spending time with him the whole time...?))
((...instead of coming back to my place?))
((A colleague who joined the company the same year as I did seems to have feelings for me.))
((I will never make you cry.))
((Break up with that guy and come to me!))
((Complicated human relationships...))
((I'll give you a million dollars if you break up with him.))
((A sudden marriage to a man who lives in a world totally different from the one I know...))
((However, it wasn't normal marriage at all...))
((It just happened to be beneficial to both of us.))
((The reasons behind their marriage offers will eventually become clear...))
((Their feelings change gradually...))
((this is a love story that starts from a contract.))
((...))
((One Week ago...))
((I walked into the company cafeteria.))
((It was loud and bustling with people as always.))
Friend: So, Yuya, was it? How are you doing with him?
Friend: Do you feel like something is going to happen between you two?
Me: Well, he asked me to dinner again next week.
Friend: Wow! Good for you! He seems like a great person.
((I'm just an ordinary office worker.))
((Even though I feel like something is missing, I'm quite satisfied with my life these days.))
((I check out restaurants in magazines, and sometimes go out with the girls.))
((we talk up a storm about love and marriage.))
((Until I got that phone call...))
((I was a normal, 28-year-old girl, looking to enjoy a little more romance, marriage...))
((... and the normal happiness that comes with it.))
((Call from dad*))
Me: Huh? It's pretty late to be calling.
((I Answered the phone.))
Me: Hello? What's going on?
Me: Uh huh.
Me: Huh? What?!
Me: Your business is going bankrupt?!
Me: Uh huh... yes.
Me: It's okay, I have some savings I can help you with.
Me: What? F-Five hundred thousand dollars??
((I almost fainted.))
((My father has quit his job to start a printing factory.))
((I liked the smell of the papers, back when I was little.))
((I often dropped by the factory on the way home from school.))
((But, my father's business was hit hard by the recession.))
((I was alays grateful to my parents for bringing me up in comfort.))
((They took wonderful care of me, as their only daughter.))
((And that's why I felt I needed to help them, now.))
((But despite my conviction, I didn't know what I could do for them...))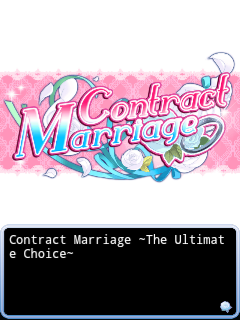 ~~ Contract Marriage ~The ultimate Choice~
...
((I have to deal with this somehow.))
((Back then...))
((I couldn't have known just how much this conviction would change my life.))
((At that moment, somebody appeared before me...))