[Sweet Scandal] Amasawa Kaito - Ch10 - Theory of Happiness 03
Code to receive 100 platinum: [[ fnkQxa ]]
((I tried to distract myself from what happened yesterday.))
((I put all my effort into my work.))
((Akina and Yui came over to my desk.))
Akina: You're working like a crazy person!
Akina: Did something happen?
Laz: No, I'm just in the zone today.
Akina: Yeah. right.
Akina: I don't believe you.
Laz: Well, think what you like.
((Akina placed a huge amount of paperwork onto my desk with a sigh.))
((I had asked for background knowledge.))
Akina: Here's the information on the Yamanote Group.
Akina: This is all the official information.
Laz: Wow! Thank you so much. That's so helpful!
Yui: I asked the critic.
Yui: For some additional information, I mean.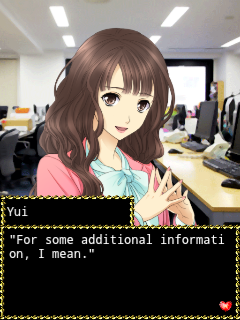 Yui: Here is his report.
Laz: You did this?
Akina: She must really like you.
Akina: She did this all on her own.
Yui: Well...
Laz: Thank you!
Laz: You, you will make a great reporter!
Yui: Thanks!
Laz: (Wow, everyone is helping me.)
Laz: (I'm going to be happy and do my work!)
((Sometimes I would be filled with envy at Kenichi and the woman.))
((But I tried to write the best article I could.))
((I want to help him become happy.))