Mami Tomoe [ Make-up Guide] ~
heiya~~ ! So, for those who have been asking, I will explain now how I usually do my
make
-up for
cosplay
~~
The reference this time will be the last Make-up I've made, for my Mami Tomoe's
cosplay
.
This is what we will be using for this one: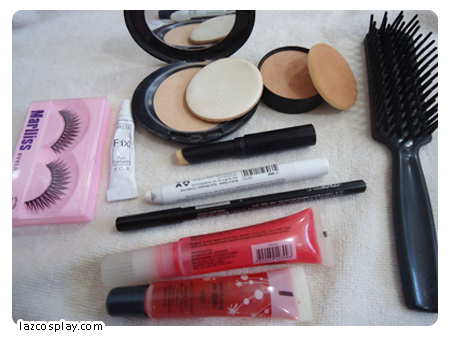 First of all, wash your face with cold water and soap. Make sure that it's pretty clean and then dry it with a towel. Then, apply some stick foundation over the spots (like acne, small bruises or scars etc...). After it, put base/foundation (of the same tone of your skin) all over you nose, cheeks and chin. Apply some over your forehead and pull it toward your nose bridge. Grab the blush (I use a warm tone, just to give the impression of sun exposure) and apply it over the nose bridge, bottom part of the chin and the sides of the face. Smile a lot and apply blush over your cheeks.
Just like this:
Now get the black pencil and apply it all over the water mark of your eye. Then to the upper side of it, leaving the centre part of the eye blank. Then apply the white eye-liner over the blank part (on the internal side of the eyes). Push it a little with the tip of your fingers (both, black and white) and reapply until you get the desired effect.
Glue the fake eyelashes and reapply the black liner where you feel it's needed.
Clean your lips and slowly apply the coloured gloss over it. I tend to put it in the middle of the lips and then slowly pull it to the borders, using the lips itself.
For Mami I've used coloured contact lenses. And tried to put some yellow shadow over my eyebrows. Too bad they're too heavy, so it didn't work xDDD Ahaha anyway, it's also a good idea to get rice powder and put it near the eye area (not on the cheeks!) to give a little of volume.
I got pretty chubby with this wig, so I didn't really felt like making my face rounder. If you need it, just apply more white powder near the nose area and avoid using darker tones over your skin.
And that's it!
Feel free to ask anything you feel like xD